What Is Section 179 Tax Deduction? Pros and Cons for Small Businesses
2 min read
Despite the ongoing COVID pandemic, fluctuations in the global economy, rising costs, and concerning global events, small businesses seem to be thriving. Many small businesses have not only adapted during these uncertain times, but according to a recent survey by Quickbooks Small Insights Survey, small businesses are thriving. 
Whether you've filed for an extension, or you're trying to get ahead of the 2023 tax deadline, now is a good time for small businesses to better understand the Section 179 Deduction.
Recommended: Taking Business Tax Deductions
What is Section 179 Deduction?
Section 179 Deduction allows businesses to take a larger upfront deduction on items that are directly related to the business and depreciate over time, like work vehicles or equipment.
Pros and Cons of Section 179 Deduction 
Tax experts say that there are pros and cons to the Section 179 Deduction. "It has the advantage of freeing up cash a lot quicker, says Jeffrey Levine, CPA and Tax Expert for Buckingham Strategic Wealth. The downside, he says, "You could end up pushing yourself into lower brackets."
Watch the video for more pros and cons or read the transcript below.
Quotes| Consider These Disadvantages Before Taking a Section 179 Deduction
Jeffrey Levine, Chief Planning Officer, Buckingham Strategic Wealth
Jeffrey Levine, Chief Planning Officer, Buckingham Strategic Wealth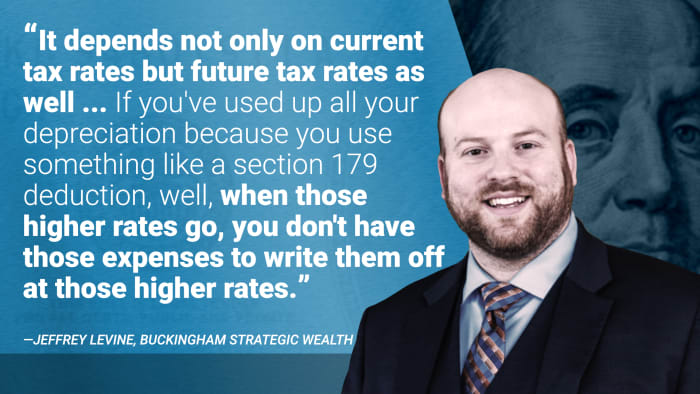 Video Transcript:
Robert Powell: Welcome to TheStreet's tax tips with Jeffrey Levine from Buckingham Wealth Partners. So speaking of small business owners, how might a solo entrepreneur or small business owner decide whether and when to use a section 179 deduction? 
Jeffrey Levine: Yeah, so a section 179 allows you to take a larger upfront deduction for certain depreciable items. So when we're thinking about property, right, something that has a lifetime, think of the desk, for instance, that's in my room. Well, you generally don't expense a desk all at once. You would say the desk has a lifetime. And so for…

2022-06-06 08:05:00

All news and articles are copyrighted to the respective authors and/or News Broadcasters. VIXC.Com is an independent Online News Aggregator

Read more from original source here…