"Investing is the intersection of economics and psychology." – Seth Klarman
Since the stock market is forward looking, any time we see a big decline, it raises fears that something is wrong with the economy. Sometimes it is a real issue and then there are instances where investors can talk themselves into anything. Trying to figure out what is causing the angst is no simple task.
The 19+% sell-off that we have seen in the S&P 500 since late September has caused recession chatter to get louder and louder. Some believe there is no doubt a recession is a given in 2019. Bear markets may be pretty good predictors of an imminent recession, but near bear markets have a much spottier record.
There have been quite a few "near bear" instances where declines in the S&P 500 were 19%, but less than 20%. Bespoke Investment Group notes:
"Since WW2, there have been five prior near bear markets for the S&P 500, and all but one of them were NOT followed by a recession."
The five prior instances in which the S&P 500 fell 19%+ from a bull market high but never hit the -20% threshold on a closing basis saw the S&P go on to make a new bull market high each time after falling the 19%+. We can't be sure that the recent drop of 19.8% over the last three months won't end up becoming a bear market, but it does show that there's historical precedent for close calls.
Most of the near bear markets did not morph into recessions in that they tended to be quick, and therefore had less of an opportunity to negatively impact consumer sentiment. Therefore, if we have seen the lows, and the S&P can manage to stabilize, any collateral damage on the economy is likely to be minimized.
It may seem like all of this is splitting hairs, but it could be very important. The stock market has historically recovered quite a bit faster from non-recessionary bear markets than from those that are accompanied by a recession. In bear markets accompanied by recessions, the S&P 500 has taken an average of about 34 months to recover its prior peak. In bear markets without recessions, the S&P 500's time to recover its prior peak is shortened to only about 11 months. In the last two bear markets without recessions, the S&P 500 recovered in 3 months.
This analysis fits right into the strategy of not getting too Bearish at the lows, and now not getting overly Bullish as rallies come along. The present rally is occurring when many indicators were showing extremes, and now immediate reversals.
Ryan Detrick notes:
"The last time the McClellan Oscillator went from -80 (super oversold) to +80 (super overbought) within two weeks? March 2009. It happened again on this past Monday."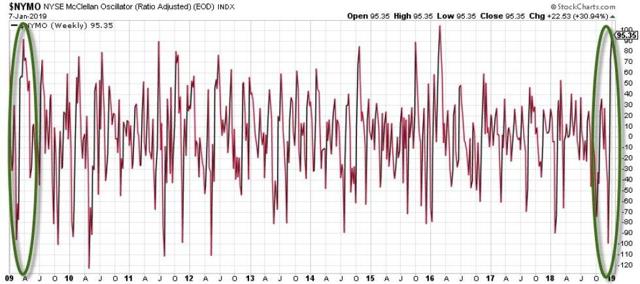 Chart courtesy of StockCharts.com
This happened 10 other times since 1962. All 10 instances saw the S&P 500 higher a year later. Its median return was +21.9%.
I also note that NYSE "Up" Volume accounted for 95% or more of total volume twice in a two-week period recently. In the past this has been a sign of a trend reversal. The latter signal is rare and has some notable results. Prior to this occurrence, there have only been 3 distinct times when this has happened.
Aug '82: S&P 500 was up 31% six months later.

Jan '87: Up 21% six months later.

Aug-Nov '11: Up ~12% six months later.
I have seen other bullish signals given in the last week or so that bode well for the intermediate-term time frame. Surely, we can see a retest of the December lows BEFORE we see these positives play out, and it is why it is best to remain flexible. I continue to ignore the gurus that are making calls for this scenario or that scenario to occur when there is no defined trend in place. It may be better to wait and let the story play out. Therefore, nothing has changed, and it is best to remain open to a variety of outcomes that could come our way.

Economy
JPMorgan (NYSE:JPM) CEO Jamie Dimon isn't in the recession camp, commenting that the stock market "may have overreacted" to that notion. In keeping with my opinion of "No Boom, No Bust," LPL Research tells us: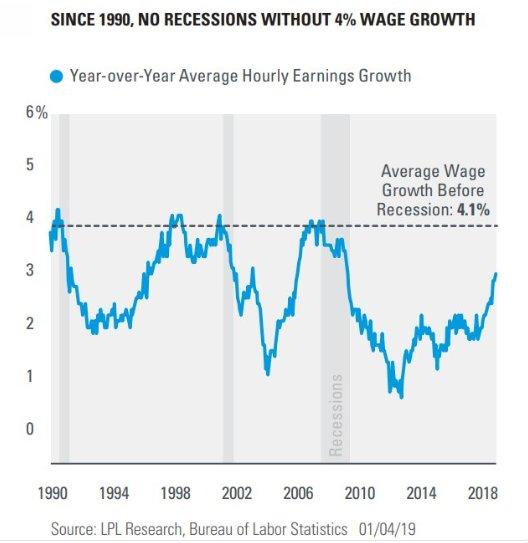 Atlanta Fed's Q4 GDPNow estimate remained at 2.8% compared to the 2.7% blue chip consensus.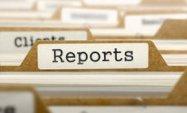 December ISM non-manufacturing index dropped 3.1 points to 57.6, after the surprise 0.4 point uptick to 60.7 in November. This is the lowest reading since July's 55.7. It was at a 21-year high of 61.6 in September, and was at 56.0 last December.
NFIB small business sentiment index dipped 0.4 points to 104.4 in December from 104.8. It's the lowest since October 2017. And it is also a fourth consecutive decline, down from August's 108.8 record high.
The Bloomberg Consumer Comfort index dropped to a four-month low with a reading of 58.5. The government shutdown along with the uncertainty over the Chinese trade talks were seen as the culprits.

JOLTS reported job openings dropped 243k to 6,888k in November following October's 171k increase to 7,131k (revised from 7,079k). The latter was the second highest on record, bested only by the 7,293k from August.
LPL Research poses this question and answer:
"How soon after a 300k job print can we see a recession? Last 5 cycles the average is 12 months. The last 2 cycles were 13 and 23 months. Of course, we don't know if this is last 300k print this cycle. But we do know historically rare to see recession soon after 300k print."

Will this time be different? Probabilities are skewed to a reply of "No".

Global Economy
December PMI readings from Markit showed that while the results may not have necessarily been bad, they weren't good either. Of the 30 economies with data so far, 10 had PMI readings below 50 (indicative of contraction). That's up from the eight in November and only two economies reported contractions a year ago.
Generally speaking, non-manufacturing PMI releases from Markit so far for December have shown a similar picture to manufacturing PMIs: a still-growing but marginally slowing global economy that has a number of countries in contraction, but widespread divergences in activity.
Overall, the global economy is seeing further slowing of growth but no real collapses. The World Bank released its global growth forecast dropping its forecast to 2.9%.

German Construction Purchasing Managers' Index rolls in a 53.3, up from November's 51.3. The headline seasonally adjusted indicated the strongest growth in total industry activity for seven months in December. Phil Smith, Principal Economist at IHS Markit:
"The end of 2018 saw a broad-based upturn across the German construction sector, with PMI data showing stronger growth in output, new orders and employment. Evidence from the survey hinted that milder than usual weather across some areas had a positive influence on activity. In addition to temporary factors, the underlying trend in demand was already a positive one, with December marking the third month in a row that new order growth has accelerated."

"In terms of work on the ground, the upswing in activity in December was primarily driven by greater work on housing projects, which rose the most since last May. Owing in large part to an especially strong out-turn in the first quarter, commercial activity was 2018's strongest performing category of construction despite growth tailing off slightly in the final month of the year. Though still acting as a drag on the total level of output, civil engineering activity had its best quarter for over a year in Q4."

The Japanese seasonally adjusted Business Activity Index fell to a three-month low of 51.0 in December, down from 52.3 in November, signaling mild growth of service sector output in Japan. Poor weather and underwhelming sales at some companies weighed on activity growth.
Joe Hayes, Economist at IHS Markit:
"Positive survey data from the manufacturing sector were not mirrored by Japan's dominant service providing industry in December, where business activity increased at the weakest pace since May if the natural-disaster-hit September is discounted. The survey also pointed to abating demand pressures, as private sector sales increased only mildly on the month."

"Nonetheless, composite level data points to a relatively solid pace of expansion over the last three months of 2018, suggesting that the Q4 GDP print should bring a bounce-back in growth."

Prime Minister Theresa May's government lost a vote that would require them to present plans within three days of a failed withdrawal agreement vote within three days of that failure; the government will have to very quickly present what it plans to do next if, as expected, it loses the vote scheduled for next week. Notably, Labour leader Jeremy Corbyn said today that he won't rule out extending Article 50, or even rule out a second referendum.
Prime Minister Theresa May has set a date in Parliament to vote on Brexit, with the government's deal due for a floor vote on January 15th. At this stage, there are several options. First, the vote passes and the UK then leaves in March. Analysts believe this is a relatively low likelihood outcome given whip counts and the apparent lack of a majority for the specifics of the deal across May's own thin Conservative majority.
Second, the vote fails and the UK asks the EU for more negotiating time in order to try and pass a similar deal. The PM's office said today that's not being discussed with the EU, but that doesn't mean it's impossible.
Third, the PM manages to pass her Brexit agreement at some point after the first vote; we think that's relatively more likely than passage the first time around. Fourth, the vote and all subsequent efforts fail and the UK leaves without any transition arrangement. This is the nightmare "no-deal" scenario which would cause major disruptions to the UK economy, putting complex supply chains in grave danger. This may be a market-moving event here in the U.S. as well.
If May cannot pass her vote, won't ask for an extension, and doesn't want a hard Brexit, she will have to withdraw Article 50. Importantly, an EU court decided in December that the UK has the right to unilaterally withdraw Article 50, so legalities are clear in this case; it would likely be exercised only in extreme duress economically, financially, and politically, but is certainly a possible escape route if hard Brexit looms.
Stay tuned.

Earnings Observations
Earnings season is upon us once again. The large money center banks kick it off when they report their results next week. The bear argument for the US dollar to be a headwind for corporate earnings is slipping away.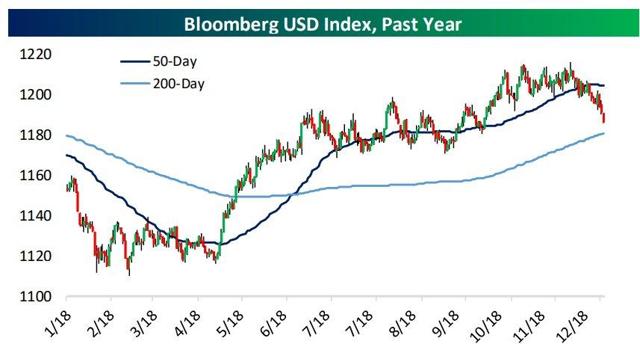 Source: Bespoke
FactSet Research weekly update for Q4 2018:
With 4% of the companies in the S&P 500 reporting actual results for the quarter, 90% of S&P 500 companies have reported a positive EPS surprise and 65% have reported a positive revenue surprise.

The blended earnings growth rate for the S&P 500 is 10.6%. If 10.6% is the actual growth rate for the quarter, it will mark the fifth straight quarter of double-digit earnings growth for the index.

The forward 12-month P/E ratio for the S&P 500 is 15.1. This P/E ratio is below the 5-year average (16.4), but above the 10-year average (14.6).
The consensus is that earnings forecasts are way too high for the quarter, and the forward guidance will be miserable. Just how much of that has already been priced into a market where many stocks have sold off much more than the 19% in the S&P remains to be seen.

The Political Scene
Softer rhetoric on the China Trade tariff issue has now taken the issue from one that had the tone of escalation to one that now appears to be de- escalating. That sentiment has slowly spilled over to the equity markets.
Unless there is a breakthrough over the weekend, when trading opens on Monday, the government shutdown will be the longest on record. The administration is demanding that dollars be appropriated to build a barrier on the southern border in what is now viewed as a crisis situation.
While Democrats have voted for such funding in the past, they are steadfast in their approach to not provide any money for the issue now. There have been opinions rendered in the past suggesting the best way to cope with the situation might be to "continue President Obama's precedent of dealing with immigration policy through executive action".
So far the equity market has yawned.

The Fed
The yield curve has "inverted" (10-year yields less than 2-year yields) ahead of every recession in the past 40 years (arrows). The lag between inversion and the start of the next recession has been long: at least eight months and in several instances as long as 2-3 years.

Chart courtesy of Urban Carmel
For the moment the yield curve is NOT inverted, and there have been plenty of times in history where the curve stays flat for months. If the yield curve inverts on Monday, and we take the shortest interval of eight months, that suggests the current expansion should last at least until late 2019.
I thought it was best to run far away from anyone that was telling me the Fed was hell-bent on raising rates no matter what the economy was doing. I maintain that position today. It was void of common sense then, and it's void of commons sense now. Parsing every word and comment from the Fed is a waste of time. Investors were sold a wheel barrow full of nonsense when all of that rhetoric was being spoon fed to everyone about what "they thought" the Fed's intentions were.

Sentiment
The Investors Intelligence weekly survey of bullish sentiment dropped this week from 39.3% down to 29.9%. The 9.4% decline was one of the top five largest weekly declines in the last 20 years.
Plenty of investors were sellers in December. After seeing this graphic, there is little surprise why stock prices went into free fall.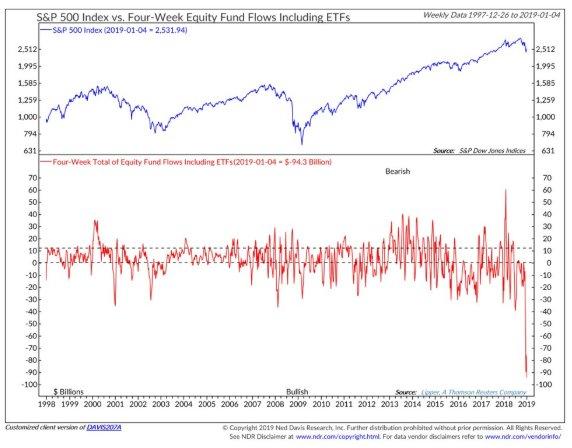 Were they all right? Is that a sign that a top has been put in? In the past that action usually stamps a bottom, not a top.
The survey of individual investors from AAII has seen a decent bounce in bullish sentiment back to more normal levels since hitting a multi-year low back in mid-December. This week's survey saw 38.5% of investors reporting an optimistic outlook for markets in the next six months.

Crude Oil
The EIA weekly inventory report told us that inventories decreased by 1.7 million barrels. At 439.7 million barrels, U.S. crude oil inventories are about 8% above the five-year average for this time of year. Total motor gasoline inventories increased by 8.1 million barrels last week and are about 5% above the five-year average for this time of year.
Crude oil has now regained the $50 mark. The short-term resistance was overtaken rather quickly and could bode well for further gains ahead. WTI closed the week at $51.76, up $3.45. That is a gain of $6.47 in the last two weeks or a gain of 14+%.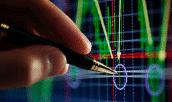 The Technical Picture
The S&P overcame initial resistance at the downward sloping 20-day moving average (green line), and the rally continued. It is clear where the next overhead resistance now lies. The 50-day moving average (blue line) at 2,635.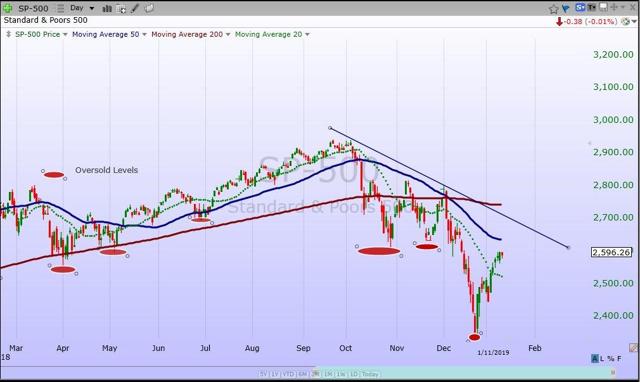 Chart courtesy of FreeStockCharts.com
Coincidentally that resistance level is just below the more important longer-term 20 MONTH trend line which is at 2,660. It seems everyone has pegged the 2,600-2,650 level as a point where the mini rally in the S&P will fail. I now wonder if this may become a self fulfilling prophecy. Stocks are overbought in the short term, so this seems to be good timing for a pullback.
I would look at the 2,522 level (20-day MA) as an area to watch. The Bulls want to see the flattening 20-day moving average provide that support, then have the index enter a period of consolidation. The more popular opposing view is a retest of the December lows. I believe that has a decent chance of occurring, and if history repeats, it might come before the end of February.
However, there is a third scenario that no one seems to be considering. The index remains overbought, but the rally continues right up to that descending trend line posted on the chart. IF that does become reality, it could be another possible bullish outcome, where the index then sits and consolidates while accomplishing the task of overtaking the 20-MONTH long-term moving average.
Plenty of moving parts in this technical view now. There doesn't appear to be a scenario that is set in stone which is usually the case when we look at the short-term picture. Unfortunately that is also the case for the intermediate view as well. With no trend firmly in place, we wait until we get a resolution on that before we stretch portfolios too far in any one direction.
Short-term support is at 2,522, with resistance at the 2,595-2,560 range (the close today), and 2,635.

Individual Stocks and Sectors
Generally speaking, 2018's worst sectors have been the best in 2019, and vice versa. Note that Utilities and Healthcare, 2018's leaders are up the least so far in 2019. The Tech sector is underperforming as well. A good start to the year for the Energy sector.
An interesting observation. A rebound in the cyclical sectors would be very beneficial for the relative performance of small caps. As shown in the chart below, over the last five years, the two have had a broadly positive correlation.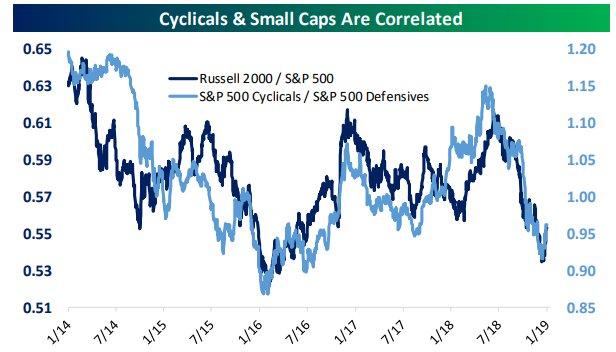 Source: Bespoke
The percentage of stocks in the S&P above their 50-day moving averages remains at just 33%, and no sector has a reading above 50%. The Bulls would like to see the S&P's reading get back above 50%.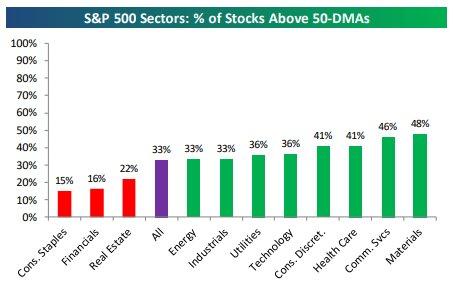 Source: Bespoke

Seth Klarman had it right when he uttered that opening quote. That is exactly where market participants find themselves these days, wrangling with their emotions in an economy filled with crosscurrents. Successful investors try to look for and interpret ALL of the data. Historical patterns offer as much as the latest technical chart. Sentiment plays an important role as much as any PMI index that is being reported and on and on. A few of those data points were highlighted earlier.
The S&P 500 now sits 11% below the all-time highs. Oh, how many were criticizing the Bulls that decided to remain focused on their long-term strategy when the index dropped 19.8%.
"Only fools will sit through that kind of market action. The bulls are getting killed now, all of their gains are melting away".
I disagreed, and now we are seeing why I disagreed. It's not foolish, instead it is not letting emotion rule the day.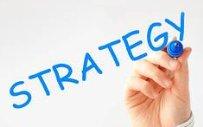 The S&P has rallied back and is closing in on THE level I mentioned many times in the last four months, the 20-MONTH moving average, now sitting at 2,660. That trend line is 9.2% off the closing high, and it demonstrates why I don't believe in selling into a stampede while everyone around is telling us the S&P is headed lower, much lower. It may well be headed lower, BUT NOT BEFORE the index does what it has done time and time again. Retest the previous support area that was just violated.
That is simply how the stock market works. Giving in to the rhetoric of predictions for S&P 2,100-2,200 or worse, without monitoring what is going on is a recipe for failure. That failure is born because of the human emotions that take over. Those that have emotion under control are successful, those that don't struggle mightily to be successful.
Using the S&P as a guide, patient investors now see their holdings down around 11%, a drop in the bucket compared to the gains that the same patient investor has racked up in the last few years. The critics kept reminding the bulls that the big name stocks were destroying them in the sell-off. Anyone staying the course and following the strategy that strong counter-trend rallies will take the index back to old support levels is hardly getting "killed". There are important takeaways from the graphic posted below.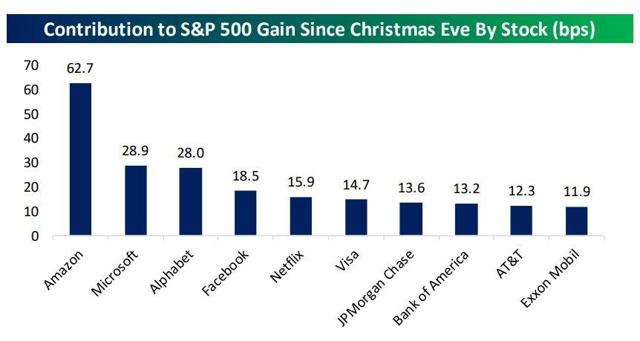 Source: Bespoke – Data as of Jan 7th
I'll add in Alibaba (NYSE:BABA) to that chart as well, up 14.5%, while the S&P was up 8% in the same time period.
It's obvious that one should avoid selling during a period when stampeding investors are trying to exit at the same time. Rebound rallies allow an investor to recoup a large part of the original losses. For those that are more active and decided to step in and buy when fear was at its highs, they did even better. The small sample above shows what occurs in these bounce back rallies.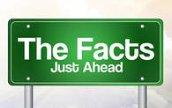 What we are witnessing now destroys the notion that an investor will lose all of their gains in a matter of days and weeks. That commentary is pure fiction. I have talked about this EXACT time period ever since the S&P 500 went into deep correction mode. None of this market action should be a surprise.
No I am not clairvoyant. Part of any strategy is looking for what has occurred in the past, and realizing how different market situations can play out. At this juncture the index is at a crossroad. I will be the first to say this story isn't over. Will the index retake the long-term bullish trend, OR will it be rebuffed and fail sending the index lower?
As with any market situation, there's never a black and white situation. In 2015, it took two months for the index to right itself. In 2016, it was three months where the index hung around the trend line before signaling a bullish break. On the other hand, 2008 saw a solid three-month period before it was abundantly clear that the index was not going to rally above the trend line as it was tested and rebuffed twice in that time frame.
It is incumbent now for everyone to follow THEIR plan based on THEIR personal situation, comfort level, and risk tolerance. A definitive break below could take the index down at the very least to test the old lows, and raise the probability of setting new lows in the process to a high level. A definitive break above and the bullish trend is back in place.
Until we get more clarity, investors should realize decisions still have to be made. Nothing new in the world of investing. There is ONE HUGE difference now, these decisions can be made with far less stress than in the earlier part of the correction. The investor is in control now. Don't think that makes a difference? Think again. The situation is simply not the same now compared to when the experts were telling us at the lows that there was another 10-15% decline coming.
Since NOTHING has been resolved just yet, and there are choices now in front of us. Some may feel more comfortable to raise that cash level to extremes, put on some small hedge positions, or simply sit tight and wait for the market to definitively tell us what to do. I repeat the idea that it may not pay to get too stretched in any one direction. Remember once the trend is established, there will be an abundance of time to take advantage of it. So depending on your situation, PATIENCE is still required.
Sometimes the investment community likes to turn a very simple situation into a real complex issue. Many pundits are falling over themselves to tell investors exactly what is going to occur, despite the fact that no dominant trend is in place. We hear forecasts that the S&P will drop to "X", then rebound to "Y", but eventually will drop below "X". Well, maybe that will indeed take place. Then again maybe something will come along to make that all look irrelevant.

It is especially important to dismiss any forecasts that are looking years into the future. They will only confuse the average investor to a point where they lose sight of very important events that are happening NOW. These nonsensical claims about what is going to occur years down the road are pure fiction. Four years ago, I had someone tell me here on SA we were in for years of subpar performance for stocks, and investors needed to "be prepared". I don't hear from him anymore.
A very simple view says we watch the day-to-day, week-to-week price action before we position too far one way or another in anticipation of any event. In real time, distinguishing a true rebound rally that will re-establish the Bullish trend from one that can fool everyone leaving them in a bad situation is extremely difficult. It is here where an investor needs to evaluate what ALL of the data is telling them.
As the S&P tries to find its footing and work out what could be a long duration bottoming process, the message has been to remain patient, and not to overreact. So far that has paid off. It remains far too early to speculate on exactly what is going to occur. Far too many things can happen to alter the next 4-6 weeks or months, never mind the next 4-6 years.
The market strategy I follow is suggesting a very big clue to the fate of the intermediate-term situation may be near. In the meantime, there are smaller clues piling up in the background which are leaning to a more bullish resolution to the latest correction. Stay tuned.

I would also like to take a moment and remind all of the readers of an important issue. In these types of forums, readers bring a host of situations and variables to the table when visiting these articles. Therefore, it is impossible to pinpoint what may be right for each situation. Please keep that in mind when forming your investment strategy.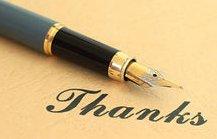 to all of the readers that contribute to this forum to make these articles a better experience for everyone.
Best of Luck to All!
Disclaimer: My portfolios are ALL positioned to take advantage of the bull market with NO hedges in place.
I am LONG all positions in every portfolio mentioned.
This article contains my views of the equity market, it reflects the strategy and positioning that is comfortable for me. Of course, it is not suited for everyone, as there are far too many variables. Hopefully it sparks ideas, adds some common sense to the intricate investing process, and makes investors feel more calm, putting them in control.
The opinions rendered here, are just that – opinions – and along with positions can change at any time.
As always I encourage readers to use common sense when it comes to managing any ideas that I decide to share with the community. Nowhere is it implied that any stock should be bought and put away until you die. Periodic reviews are mandatory to adjust to changes in the macro backdrop that will take place over time.
Market volatility continues to be part of the investment scene in 2019. Are you prepared? This is part of the Fear and Greed Cycles that the market presents that trips up the average investor.
New market highs ahead?, or a test of the prior lows? What stocks and sectors look good now? The Savvy Investor Marketplace service is here to help. It is always better to control the situation than have the situation control you. Invest without emotion, drown out the noise and start profiting from what this stock market is giving investors. Please consider joining one of the most successful new ventures here on Seeking Alpha. The reviews speak for themselves.
Disclosure: I am/we are long EVERY STOCK IN THE SAVVY INVESTMENT PORTFOLIOS. I wrote this article myself, and it expresses my own opinions. I am not receiving compensation for it (other than from Seeking Alpha). I have no business relationship with any company whose stock is mentioned in this article.


2019-01-12 09:38:00

Read more from source here…