"Emotional control is the most essential factor in playing the market. Never lose control of your emotions when the market moves against you. Don't get too confident over your wins, nor too despondent over your losses." …… Jesse Livermore
While there is still quite a bit of rotation going on underneath the surface, the S&P 500 as a whole has gotten through it unscathed. It has also managed to navigate through a period of weakness for the popular FANG group of stocks. Just two short weeks ago when Facebook (FB) disappointed the street got this idea that it was time to get out of Dodge. In this case Dodge was technology stocks as many thought that trade was now over.
Amazing what happens when the crowd jumps to a conclusion. Anyone selling their technology shares now has some explaining to do. The largest stock in the world, Apple (AAPL), came along and picked up the slack. The Nasdaq Composite is about to register yet another all time high in 2018.
Despite what some pundits are saying, this push to new highs isn't just a few stocks, there are plenty of sectors involved in this latest rally. More on that later.

So as the S&P now approaches the all time high, the anxiety of new highs strikes a chord with investors. For the most part it is a negative thought that appears in our minds. Stocks are overextended, this could be the TOP. I wonder how many investors have already said that as new high after new high was forged leading up to 2015. Only to see a repeat of that in the run from late 2016 to January of this year. Hedging, raising cash, believing they would outguess the market, all while the Long Term trend was very strong. The epitome of trying to time the market. The money given away by hedging at each of these milestone tops has to be enormous. Peter Lynch was right when he said;
"Far more money has been lost by investors preparing for corrections, or trying to anticipate corrections, than has been lost in corrections themselves."
Here we are, deja vu all over again. They are back and they are resolute in their opinion. The period before, during, and directly after a new market high brings out the you better hedge and raise cash chorus because this it the time to get cautious.
Sitting on cash and wrong about the markets. There are plenty that have been caught in that position, anyone taking that approach isn't alone, there is a small army of individuals out there who share that dilemma. All during this bull market investors have been told how it is a great time to be careful.
The mindset is quite understandable. No one wants to lose money. If given a choice people will lead to loss aversion rather than leaning to the prospects of gains. That's human nature/emotion 101. We have seen it over and over. If given a choice during any stressful moment in the market and investor will start selling and raising cash. There is a time to proceed that way, but a strong bull market is NOT that time. You will come to realize you just talked yourself out of a lot of gains.

Not many who have been wrong on the markets for months and now years on end wants to admit that. Human nature at work again. At times it seems they pat themselves on the back, pick up another bag of stats to prove they were right (just not now ) and merrily sing the same wrong tune. It's all about holding on to the human egos we all possess, the self esteem that we simply don't want to trash. After all, who wants to impose that guilty feeling of making a mistake on themselves?
Some of that comes from what was discussed last week, Recency Bias, what do we remember. In the case of the average investor it is the the next crash that's right around the corner. There are antidotes for this malady, the first is an open mind and another is conviction.
This period isnt like 2000 nor 2007. Conjure up all sorts of potential issues and an investor can talk themselves into anything. That includes making premature decisions on issues that may never come to pass. If one would open their mind and look at ALL of the data they will indeed discover that this period is VERY different.
The first step is to understand the underlying backdrop. By some of the commentary I read and hear it appears some don't have that part correct. This is a strong Secular bull market backdrop. If one doesn't want to use that as their key to set up an investing strategy there is no need to read any further.
The investor that has conviction has an edge over one that doesn't. One that does possess this belief in their strategy, monitors the situation with an open mind and constantly weighs the probabilities of different outcomes is often very successful. On the other hand being wishy washy because you are not 100% sure, or you are the person that believes they can outguess the market is at a distinct disadvantage. First there are never any 100% scenarios that we can ascribe to. Secondly I'm here to tell anyone they can't outguess the stock market.
Latest example of that. The headlines swirling around about trade tariffs. One only has to look at the last month's price action to understand the difficulty of trying to be a genius and hedge. The tariff talks were incessant and then ramped up (I.E. Tariffs on ALL chinese Imports). During that time the S&P was up 3.5%, the Dow 4.7%. Anyone hedging then didn't outguess the market at all. I doubt the hedgers will admit that now.
In order to garner the largest gains out of any secular bull market, you don't bet against it, and you stay with that trend until it changes.

Economy
With the expansion a year away from becoming the longest in U.S. history, Goldman Sachs studied other countries where growth cycles have lasted more than 10 years.
They found similar advantageous factors exist in the U.S.today. A relatively flat Phillips curve (the relationship between inflation and unemployment), strengthened financial regulation and a lack of financial imbalances.
It has taken much longer this time around to get to the late cycle stage of the economic cycle due to the flat growth in the last 8+ years. Remember no boom, no bust. If we look back at history, in the last three economic expansions, the late-cycle phase lasted 2-4 years. Perhaps we see that again, and that says the chance for recession may not be until 2020/2021.
Core inflation has fallen short of the Fed's 2% target for 10 years. Therefore the Fed will likely continue to watch their target but not get overly concerned about periodic moves above it.
Increasing labor force participation, rising productivity and a strong dollar might also be factors in this part of the expansion cycle. The first two have improved, we saw USD weakness earlier, but now that has reversed.
Anyone wanting to start lightening up their equity exposure based on the fact that this cycle is on borrowed time could be making a big mistake. No one can time these moves from the middle of the cycle to the end. History tells us the median return for the equity market in the late stages of expansions is 42%. One might want to follow the price action along with all of the other data before they act prematurely.
A very light week on the economic front.
PPI was flat in July, with the core rate 0.1% higher, a little softer than forecast. There were no revisions to June where the headline and ex-food and energy component were each up 0.3%. On a 12-month basis, PPI slowed to a 3.3% y/y pace.
Headline CPI rose 0.2% in July with the core rate up 0.2% as well, following respective gains of 0.1% and 0.2% in June. The 12-month pace was flat at 2.9% y/y, but the ex-food and energy component accelerated to 2.4% y/y versus 2.3% y/y previously.
Wholesale inventories rose 0.1% in June, with sales falling 0.1%. The initially reported 0.6% May inventory rise was revised down to 0.3%.

The monthly Job Opening and Labor Turnover Survey was released this week and came in at a modestly better than expected 6.662 million compared to expectations of 6.625 million. Openings remain right near their record highs of 6.84 mln from April, indicating a still robust labor market. Both the total quit rate (2.3%) and the total separations rate remain right at their highs of the current cycle.

Global Economy

Britain appears to now be at a point where there is a decent chance that Brexit may not occur. U.K. Trade Secretary Liam Fox warned The Sunday Times, putting the chances of a no deal departure at "60-40" and squarely placing the blame on the European Commission. Negotiations have stalled as the bloc accused Britain of failing to make realistic proposals. Theresa May's Conservative government is also split over how close an economic relationship it should seek with the EU.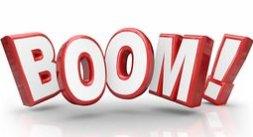 Earnings Observations and Valuations
Last week it was reported that forward guidance had turned slightly negative. That totally flipped this week as a massive number of companies raising guidance moved the guidance spread back to positive.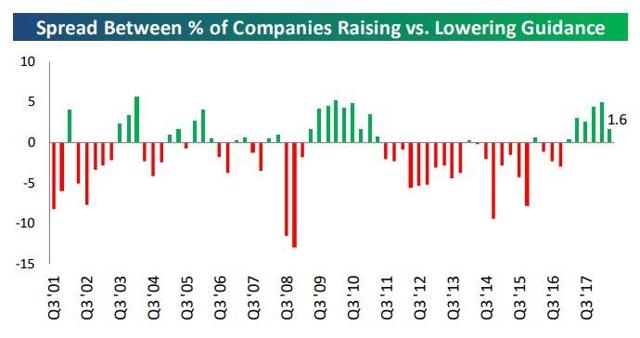 Source: Bespoke
Staying with the idea that company executives have no need to go out on a limb given the tariff issue, the fact that guidance has improved to this level represents a HUGE positive.
Factset Research Weekly report;
Q2 2018
Earnings Scorecard: with 91% of the companies in the S&P 500 reporting actual results for the quarter, 79% of S&P 500 companies have reported a positive EPS surprise and 72% have reported a positive sales surprise.

Earnings Growth: The blended earnings growth rate for the S&P 500 is 24.6%. If 24.6% is the actual growth rate for the quarter, it will mark the second highest earnings growth since Q3 2010 (34.1%).

Valuation: The forward 12-month P/E ratio for the S&P 500 is 16.6. This P/E ratio is above the 5-year average (16.2) and above the 10-year average (14.4).
The skeptics have had it wrong for years now when it comes to the reasons why the equity market has moved higher.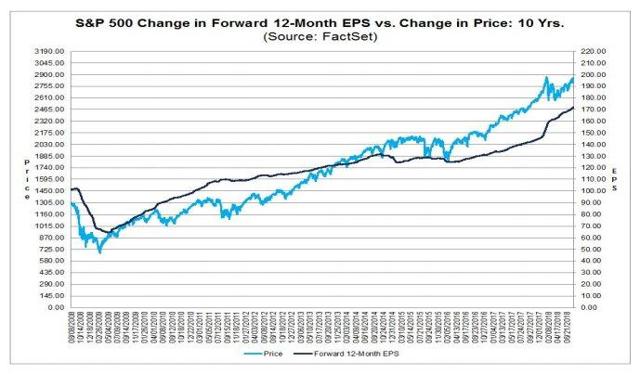 The graphic above demonstrates how the S&P has been driven by earnings during this entire bull market.

It is worthwhile to point out that we've seen major P/E contraction since the January highs for the S&P. While the S&P 500's price has almost recovered all of its correction losses, the index's P/E ratio is nearly 3 points lower from its highs. This means earnings have remained very strong throughout this period of sideways action for price that we've seen over the last 4-6 months.
The contraction has been across the board. Every sector but Real Estate has seen P/E contraction since the S&P peaked on January 26th, with Energy, Materials, Industrials, and Financials seeing the biggest drops. While the Tech sector has already taken out its January highs, even it has seen P/E contraction of approximately 1.8 points.
Growth has been the place to be in this bull market and while growth has outperformed value significantly in recent years, valuations for growth aren't all that stretched. Below is a graphic detailing the P/E ratios for Growth vs. Value since 1995.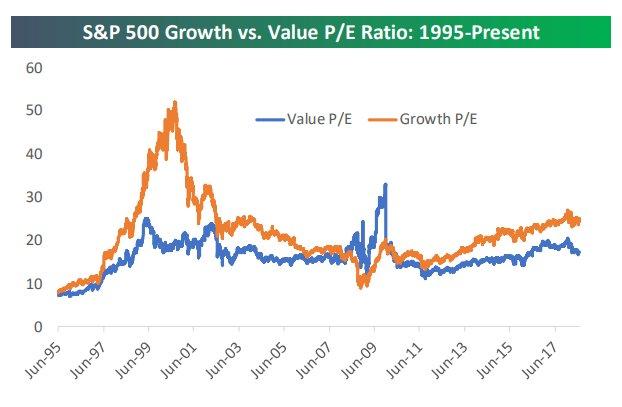 Source:Bespoke
The spread in valuations between the two was much, much higher during the late 90's bull market than it is now. Despite the recent rush to value stocks recently, the place to be invested remains to be the growth areas of the equity market.
The Political Scene
Evercore ISI chimes in on the trade issues;
"We're at the beginning, not the middle, of a trade war and that it's going to get worse before it gets better. China is almost certain to do all it can the next few months to prevent its economy from slowing (and thus weakening its negotiating position), from cutting rates to lowering taxes. It also can fall back on rising export markets in Brazil, Russia and India, which together accounted for $618 billion of its exports last year vs. $432 billion in the U.S."

"And it's not just China. Sales at U.S. multinational subsidiaries operating in other countries that also are in Trump's crosshairs (the autos and auto parts tariffs would hit those countries, too) are nearly four times as large as U.S. exports to those countries. If tit-for-tat tariffs intensify, these U.S. multinationals could be harmed. So strap yourself in as we see whether all this bellicosity and saber-rattling really works. For regardless of your views on our president, you've got to hope at least one of either "stable'' or "genius'' is correct."
I'm not totally convinced all of this ends badly. As with many of the reports on this topic, there is not one mention of the deals that are being struck with the EU and Mexico. It's always about what is not going well.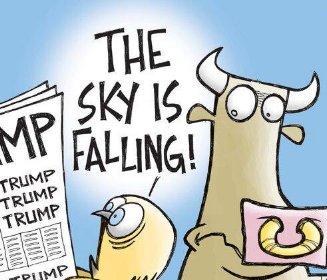 Then there is this. Oops what happened here. The sky isn't falling. Farmers may not go belly up. We may not see land in the midwest turned into dust bowls. China is back at the trough and they may be buying U.S. Soybeans.
The markets have a way of rebalancing, but don't tell that to the chicken little crowd out there. China went to Brazil for their soybean fix, and when they did the price skyrocketed there. It now appears that U.S. Soybeans became more attractive and of course are more plentiful now at a competitive price.

The Fed
Ever notice nearly every datapoint is considered negative in the current environment? The 10-yr U.S.Treasury at 2.99% got a lot of attention the other day as a risk for being high and slowing growth. Just a month ago, it was 2.80 and a risk because it suggested growth slowing and might lead to inversion.

Sentiment
It appears that a number of investors hopped off the fence and moved into the bullish camp. According to this week's survey results from AAII, bullish sentiment increased from 29.1% up to 36.4%. That's a healthy uptick in sentiment but is still below long-term averages. Negative sentiment barely budged this week as the percentage of individual investors in the bearish camp fell from 32.1% down to 31.0%.
According to Investment Company Institute's weekly fund flows data, $13.23 billion has left U.S. equity mutual funds and ETFs over the past five weeks, while $30.97 billion has flowed into bond funds and ETFs.

Crude Oil And the USD
The EIA weekly inventory report showed a 1.4 million barrel decline, while gasoline inventories increased by 2.9 million barrels.
Absolute levels of crude inventories continue to trend below their five-year average. WTI closed the week at $67.67 down $0.88 for the week. A narrow trading range in place now as WTI pulled back from the mid $70 level. Support showed up earlier in the $67 range and it will be interesting to see if that level holds again.
Considering the strength of the USD this year crude oil has held up surprisingly well.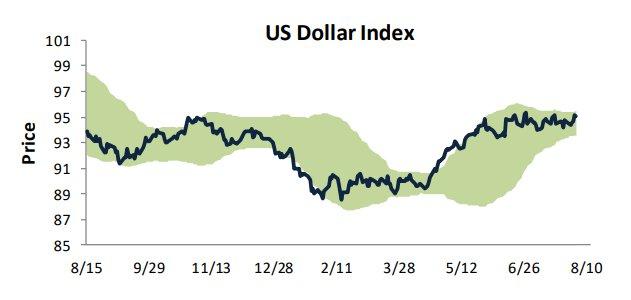 Source:Bespoke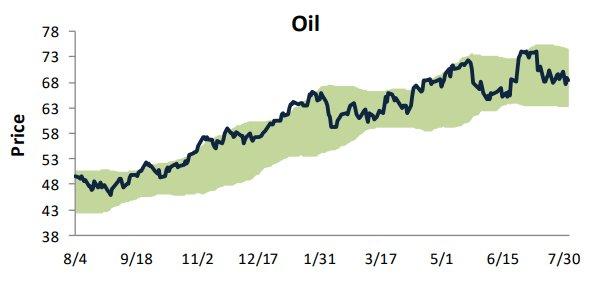 Source:Bespoke

I have to admit I have been fooled lately, guess that's what I get for listening to the pundits. The strong dollar and its effect on the economy, etc. Wait a minute, the U.S. Dollar Index (DXY) is up about 8% from the February 18th low. However, it is still DOWN 8% from the January 2017 peak. Furthermore the USD is at the same level it was in January 2015.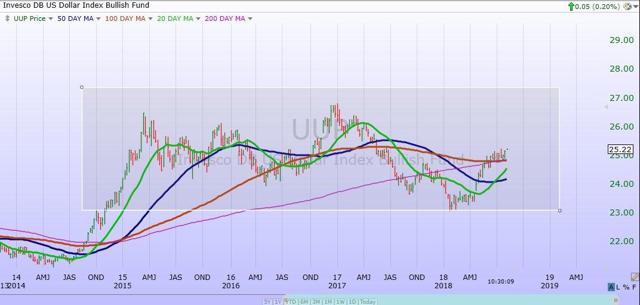 Chart courtesy of FreeStockCharts.com
So the pundits telling us about the recent rise and its ramifications might want to also tell us that the USD is in a very clearly defined long-term NEUTRAL setting for 3 years now. This highlights the importance of broadening the scope of the data. First and foremost when looking at any datapoint, it is the longer term view that matters.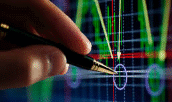 The Technical Picture
This past Tuesday marked the third straight trading day that the S&P 500's cumulative A/D line made a new high, and there have now been 24 new highs since the S&P 500's last all-time closing high in price terms back in late January. Since the record high in price, breadth has consistently held up better than price. As long as breadth continues to hold up as well as it has, this train keeps on going.
The S&P is up 6% in the last 6 weeks. A pause right under the all-time high of S&P 2872 isn't a total shock. It's not particularly concerning, either, especially considering the S&P 500 is for the most part in a short term overbought condition.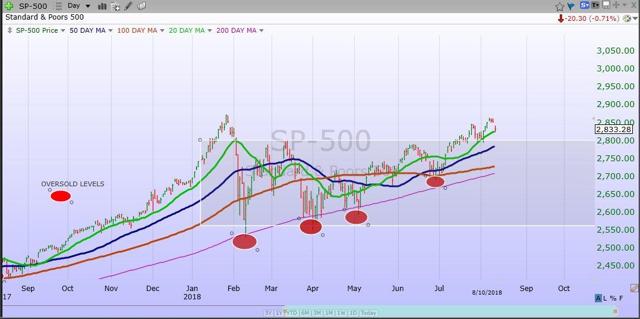 Chart courtesy of FeeeStockCharts.com
It can take time to challenge, then take out the old highs, and that also is not unusual. There easily could be more sideways consolidation before the new highs are forged. This bull market displays the strong characteristics that are needed to keep the uptrend going for an extended amount of time. A primary reason, excesses have been worked off either by time and/or price.
With the index testing the 20 day moving average of 2824 (green line) and bouncing off that level in Friday's trading session, the short term call can go either way now. A slow melt up to a new high or a pullback to the definded support range support of 2790-2800. Little reason to make any significant changes in strategy. One day, one week at a time.
All former resistance levels have been taken out. The only one left is the 2872 closing high. Short term support is 2824, then the 2790-2800 level.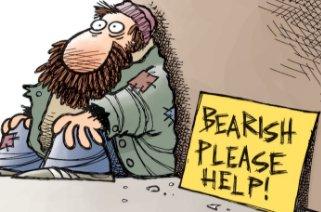 Market Skeptics
Anyone still wanting to tell me that a small number of stocks is propping up the market, please explain how the Vanguard total stock market ETF (VTI) which is comprised of over 3,600 stocks just closed at an all time weekly high.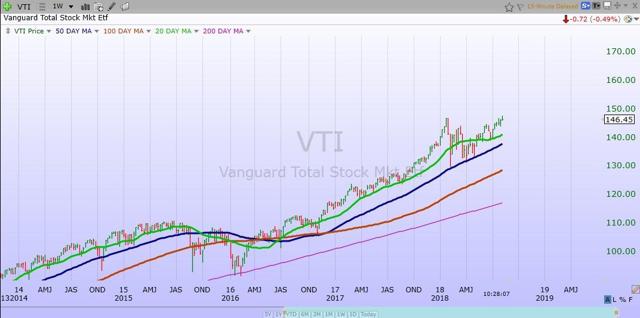 Chart courtesy of FeeeStockCharts.com
No matter how much evidence is brought to the table, many still are obsessed with the notion that the equity market is five stocks and is on a shaky foundation. Nothing could be further from the truth.

The noise on Wall Street is deafening. Trade war, overvaluation, inflation, European Politics, Fed tightening, inverted yield curve, and now let's add Turkey to the list. To maintain perspective, a review of the major market factors would prove helpful at this time. Investors biggest fear is Fed tightening and the inverted yield curve. Not a day passes some pundit doesn't talk about that. To be sure, the Fed has become less accommodative, but they have not seriously tightened.

Let's put "tightening" in perspective. Fed tightening is when the Fed raises the discount rate many times in succession, draining liquidity from the system, and inverts the yield curve.
Thus far, the Fed has raised the discount rate seven times and will likely raise it again. It's important to keep in mind where the Fed's funds rate is coming from, and that is zero. So far this Fed action is normal. As the economy grows, rates rise. Historical evidence has shown that rising rates are not bearish for the stock market. In fact, it's bullish as it reflects a stronger economy. It's bearish when the Fed tightens significantly.
The naysayers are obsessed that the 2-year T-Bond yield and the 10-year T-Bond yield have narrowed significantly. They all are screaming about inversion, but it has not invented yet. Even when it is inverted, there is no need to panic as the market usually moves higher even after inversion. So let me get this out of the way first. In the intermediate to longer term, the equity market is going higher, and here are some reasons why.

Corporate earnings are moving higher. Since passage of the tax reform bill, bottom-up consensus has been revised up by roughly $15 per share for this year and next, and ultimately could go higher. Dismantling regulation creating a business friendly environment has the small business and consumer confidence indexes at highs.
Concerns that the S&P and the Dow 30 hasn't made a new high since January are overdone, as the Nasdaq and Russell 2000 have repeatedly set new highs. Now we can add in a broad index like the Vanguard Total stock market ETF (VTI) making a new high. An indication that market breadth remains strong.
Weak productivity, arguably the biggest secular headwind, has started to modestly trend higher. Manufacturing is strong, and the job market has improved to the point that the share of workers earning poverty-level wages is now a record low.

China remains in the trade tariff spotlight. The media spins this as the only issue on trade negotiations worth mentioning. However, positive talks continue between the EU and Mexico. At some point all of this is resolved, and the probability that it sparks a global recession is very low.
Plenty of worries and plenty of positives make up the investment scene today. My conviction comes from those positive fundamental issues just highlighted, and the macro technical picture. That scene remains very strong. Markets don't fall apart overnight no matter what anyone wants to tell me, despite any or all of the concerns mentioned.
At some point, one or all of these perceived problems may blossom into a real issue. The problem is no one can say when. I just need to go back to how investors were told that QE was going to end badly. Maybe it will, but taking that as a guide to form an investment strategy 5 years ago was a disastrous mistake. Funny how some still want to make the same mistakes today.
In order garner the lion's share of gains it is best not to leave a strong uptrend too soon. For now, I plan to stay the course.

I would also like to take a moment and remind all of the readers of an important issue. In these types of forums readers bring a host of situations and variables to the table when visiting these articles. Therefore it is impossible to pinpoint what may be right for each situation. Please keep that in mind when forming your investment strategy.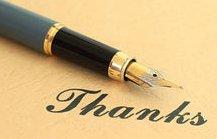 to all of the readers that contribute to this forum to make these articles a better experience for all.
Best of Luck to All !
New market highs ahead?, or is a correction looking? What stocks and sectors look good now? The Savvy Investor Marketplace service is here to help. It is always better to control the situation than have the situation control you. Invest without emotion, drown out the noise and start profiting from what this stock market is giving investors. Please consider joining one of the most successful new ventures here on Seeking Alpha. The reviews speak for themselves. 
Disclosure: I am/we are long AAPL, FB.
I wrote this article myself, and it expresses my own opinions. I am not receiving compensation for it (other than from Seeking Alpha). I have no business relationship with any company whose stock is mentioned in this article.
Additional disclosure: This article contains my views of the equity market and what strategy and positioning is comfortable for me. Of course, it is not suited for everyone, there are far too many variables. Hopefully it sparks ideas, adds some common sense to the intricate investing process, and makes investors feel more calm, putting them in control.
The opinions rendered here, are just that – opinions – and along with positions can change at any time.
As always I encourage readers to use common sense when it comes to managing any ideas that I decide to share with the community. Nowhere is it implied that any stock should be bought and put away until you die. Periodic reviews are mandatory to adjust to changes in the macro backdrop that will take place over time.
2018-08-11 09:38:00

Read more from source here…