Tuesday's price action across markets was unnerving for bulls, to say the least. Not just for equity markets that saw previous highs being broken only to chart a sharp reversal, but bonds (TLT) and gold (GLD) were also both smashed. The sector that outperformed was energy (XLE), which was flat thanks to strong buying 15 minutes before the close.
I believe the safe sector to be right now is oil (USO) and energy, as I believe that given global tensions and concurrent geopolitics, even a bona fide bear market in equities should not have a serious effect on crude prices. I'm not saying oil will necessarily go up during these times of market stress, but I don't think it will go down substantially even if things get really rocky.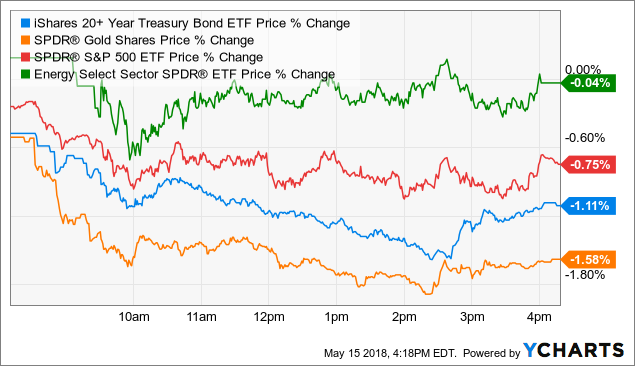 We'll get back to geopolitics, but there are other reasons to discuss first. Oil has already had its bear market, which I believe is finished for good. We will probably never again see the barrel price of oil below $40, and to go out on a limb I don't think even $50 will ever be reached again. Inflation is on its way up and the dollar is weakening in the face of record deficits and spending that aren't going anywhere but higher, and fast. A weak dollar means higher oil prices because the dollar is backed by oil in that oil can only be purchased in dollars through the petrodollar system. Notwithstanding the rise in the dollar index Tuesday (UUP), which is just a short term knee jerk reaction to hard selling elsewhere, the dollar looks to be on its way back down considering the rise in inflation of late.
Also on Tuesday, higher consumer prices were just confirmed again by the Commerce Department, which reported that retail sales in April increased by a very strong 4.7% from a year ago. Consumers are bidding up prices, which leads to inflation.
The rise in interest rates is tied to this same reasoning. Trillion dollar deficits are forcing interest rates higher, along with hurting global confidence in the dollar. The 10-year benchmark hit a high of 3.1% intraday, rates are nearly 2.6% on the 2-year, and even 3-month paper has closed above 1.9% for the first time since early 2008. Keep in mind that rising interest rates do not always combat inflation. Sometimes rates and inflation move up together, as they did in the 1970's.
The only good argument that oil bears have at this point is that any impending recession will hurt demand for crude, which could bring down prices from here after a steep 15% rise since early April. This could happen and it certainly has in the past (remember 2008?) but this time I believe is different. This time, we may be looking at an inflationary recession instead of a deflationary recession, in other words stagflation. In such an environment, consumer prices rise as GDP contracts, the worst of both worlds. It has happened before, and it was highlighted by none other than rising oil prices.
Back then, the 1970's oil crisis was precipitated by the Arab oil embargo of 1973, around the time that stagflation was gaining steam. This was precipitated by the Yom Kippur War in Israel, which pushed Saudi Arabia and OPEC into declaring an embargo against countries perceived to be aiding Israel during the war. Today obviously things are a quite different, to say the least, with Israel and Saudi Arabia aligned against Iran, and Saudi Crown Prince Mohamed bin Salman actually meeting with the Israel lobby group AIPAC and other American Jewish groups on March 29th, to the palpable consternation of Arab media.
But even though Saudi Arabia looks to be aligned with the US (and it looks like it's aligned with Israel, too) this time around, the country still has a vested interest in keeping oil prices high for other reasons. Now that sanctions have been imposed against Iran, Saudi Arabia doesn't have to worry about higher oil prices being a boon to its enemy and can continue to withhold supply from the oil market without benefiting its rival. Saudi Arabia has no compelling reason to increase oil output as the global economy has demonstrated that it can withstand even $100 oil without too many problems. It did in 2014 and there was no oil panic. On the contrary, there was panic when the price started falling.
Don't expect the Saudis to come to the rescue any time soon because they want the oil price as high as possible (not 2008 high in the $150's, but 2014 high in the low $100's) in advance of their much anticipated ARAMCO (ARMCO) IPO, slated to be the biggest in history. If it isn't the biggest in history, the Saudis will be quite embarrassed, which is probably why the IPO was postponed until 2019.
So while equities look very shaky, especially after today, oil and energy stocks look pretty good. The energy sector was flat by the end of the day Tuesday and did not follow the S&P 500 (SPY) down. I expect this outperformance to continue, even if it just means staying flat relative to falling sectors elsewhere. If selling in equity markets gets serious though like it did in early February, margin calls and other external factors could bring down energy stocks to cover selling in other sectors temporarily, but I don't believe fundamentals call for a lower oil price here. At worst, I see oil and oil stocks staying flat while other sectors fall, and if this is just a bear head fake and stocks are headed much higher from here, then oil will likely follow them higher in that scenario anyway. Whichever way we're going, oil looks safe for the medium term.
Disclosure: I am/we are long USO.
I wrote this article myself, and it expresses my own opinions. I am not receiving compensation for it (other than from Seeking Alpha). I have no business relationship with any company whose stock is mentioned in this article.
2018-05-17 05:40:00

Read more from source here…