Market Intro

Friday Close
All that hard work by US stock market bulls (SPY, DIA, QQQ, IWM) on Thursday (MSFT, TSLA) was unwound in a matter of hours on Friday, as the S&P briefly plumbed lows in the 2620s. The intraday moves are stunning, with roaring rallies snapping into plunges in a matter of minutes.

Econoday
Treasury yields (IEF, TLT, AGG) stayed pat on Friday, even with a decent GDP print. Inventory builds contributed quite a bit to the figure, which tends to steal from future growth. Still, for the time being consumer sentiment is high (reading of 98 as of Friday); so long as this metric remains in this range I do not believe inventory builds should cause much concern.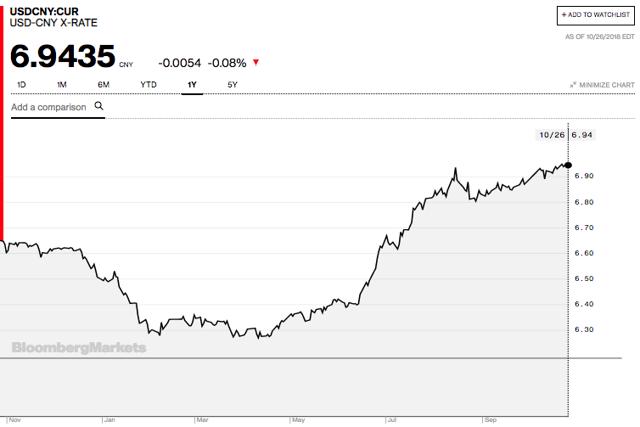 In my view, a contributor to the pick-up in volatility is the USD:CNY currency pair (UUP). The last time we saw a sharp devaluation in the CNY was mid 2015 and into early 2016, and it was viewed then as something of a proximate cause for the eruption in market swings that we witnessed over that period.
Thoughts on Volatility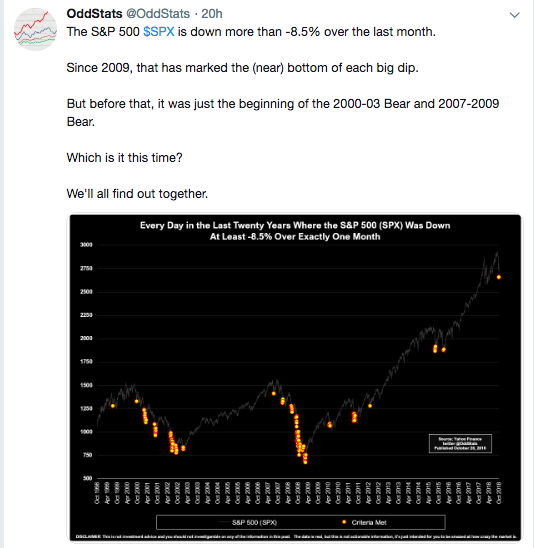 The bull market of the last decade has caused many to shift over to a buy-the-dip mantra. As humans we suffer from recency bias: whatever has happened recently receives more weight in terms of how we assess the current environment.
I am very open to the idea that we are not done with this spill. We simply do not have the support at the institutional level that we received in the last few major instances where we blew out (June '13, Oct '14, Sep '15, Feb '16, June '16). In every single one of the cases I just listed, markets only recovered because they were revived by policymakers.
I am not saying that we have to continue dropping and swinging to and fro. But I am asserting that there is every good reason to believe that this spate of tremors will not neatly revive itself in the way that it has done in recent past instances.

…Mixed bag here. Some of the earnings have come in quite well: just remember the rally on Thursday that was largely credited to Tesla (NASDAQ:TSLA) and Microsoft (NASDAQ:MSFT). On the other hand, Friday morning's sell-off was quite likely attributable at least in part to Amazon (AMZN) and Google (GOOG) (NASDAQ:GOOGL) and their failure to meet lofty investor expectations.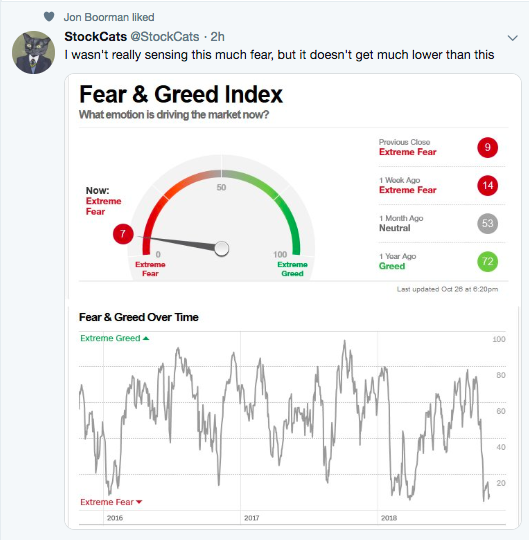 Greed maxed out around November 2017, but the S&P went on to accrue perhaps another 10% or so before reversing. I think that's pretty reasonable to where we are now. Put differently, I do not believe that this fear reading is much akin to that of early 2016 or Q1 2018.
We may get a rest and/or a bounce, but I just don't see how it sticks.
Term Structure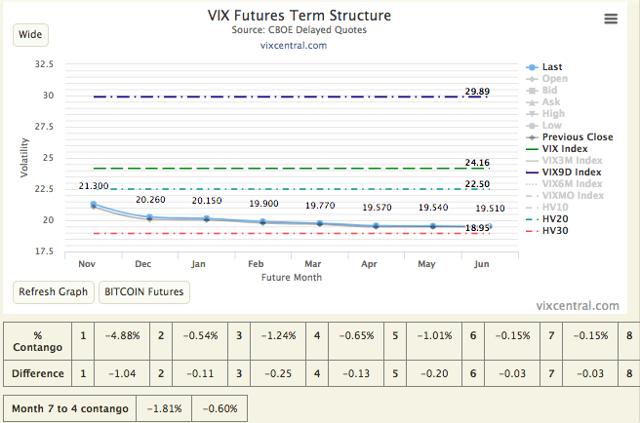 HV30 is readying itself to eclipse the back end of the term structure. I do not believe that the far end needs to go crazy here, but I will argue that the first couple months (even the relatively sleepy Dec VX contract) are primed to rise.
There are eight points between the M1 and VIX9D… you don't get anything like the reverse of that (at least not in absolute vol-point terms) even in the sleepiest of markets such as those experienced in July or November 2017.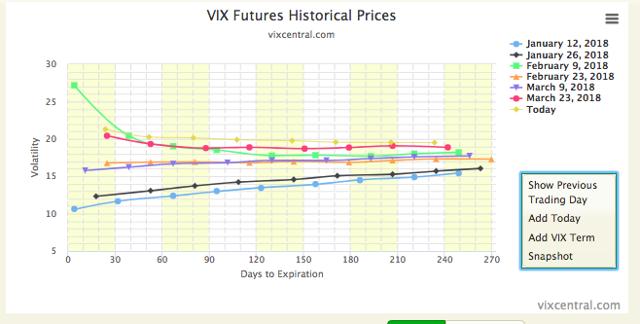 I thought it might be helpful to compare the current term structure (in yellow above) with the period Jan. 12 through March 23 during Q1 of this year. Aside from the vol blow-out for Feb. 5-9, we are at the top end of the range.
That said, intraday vol now is truly stunning in the present environment. I would like to hear from any readers who want to make the case for short-vol products like SVXY as an entry over the next couple sessions.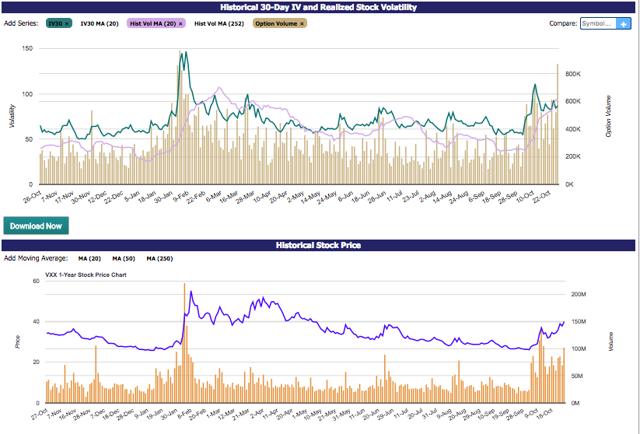 As one might expect given the fairly cautious nature of the VX term structure, implied volatility on VXX is behaving itself, albeit near the upper end of its range.
For those who trade options on leveraged products such as UVXY or TVIX, I would recommend keeping an eye on the options chain on a product whose underlying does not need to incorporate convexity or rebalance decay, as is the case for the VXX or VX options.
Conclusion
If this is your first time reading Market Volatility Bulletin, thanks for giving it a try. If you're a regular, we thank you for your ongoing contributions in the comments section.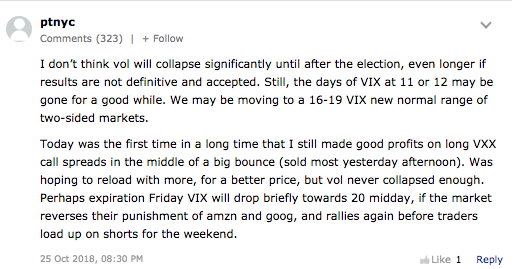 Ptnyc threw in their $.02 in the most recent MVB. I infer from this comment that they are familiar with trading VXX call spreads and understand the risks and tactics associated with this approach.
What I like most here is that Ptnyc is trading with the understanding that they cannot approach this environment in a similar manner to that of maybe more bread-and-butter scenarios we've come to think of (rightly or wrongly) as "normal" over the past few years.
Thank you for reading.
Please consider following.
Disclosure: I/we have no positions in any stocks mentioned, and no plans to initiate any positions within the next 72 hours.
I wrote this article myself, and it expresses my own opinions. I am not receiving compensation for it (other than from Seeking Alpha). I have no business relationship with any company whose stock is mentioned in this article.
Additional disclosure: I actively trade the futures and options markets, potentially taking multiple positions on any given day, both long and short. I also hold a more traditional portfolio of stocks and bonds that I do not "trade". I do believe the S&P 500 is priced for poor forward-looking returns over a long timeframe, and so my trading activity centers around a negative delta for hedging purposes.
2018-10-28 08:59:34

Read more from source here…