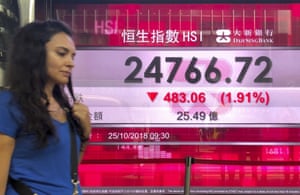 Good morning, and welcome to our rolling coverage of the world economy, the financial markets, the eurozone and business.
The sell-off in global stock markets is accelerating today, as stocks keep sliding across the globe.
Asian stock markets have plunged into bear market territory, meaning they've shed 20% of their value since their highs in January.
Fears over the health of the global economy, future US interest rate rises, Jamal Khashoggi's murder, and America's trade war with China are all being blamed as investors try to grab the nearest tin hat to ride out the storm.
Some disappointing corporate results this week – including from industry bellwether Caterpillar – have also dampened the mood, and raised fears that growth is slowing.
After a very bruising session, Japan's Nikkei has tumbled by 3.7%, while Australia has lost 2.8%. China suffered fresh losses too, taking it deeper into its own bear market.
Analysts are worried that the sell-off has further to run, and could turn into a full-blown collapse.
As Greg McKenna, an independent markets strategist in Australia, put it:



"The fear is palpable in stock markets at the moment,"

"This could get much worse before it gets better. Collapses happen after falls. That's the danger."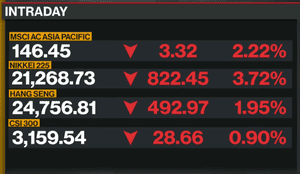 That follows another rocky session on Wall Street, where the Dow slumped by another 600 points (-2.4%). That wipes out all its gains for this year, as a wave of worry swept the trading floors.
Optimism is out, and volatility is back.
Bears are prowling the trading floors this morning in Europe too. Britain's FTSE 100 is expected to fall, and could hit a new seven-month low.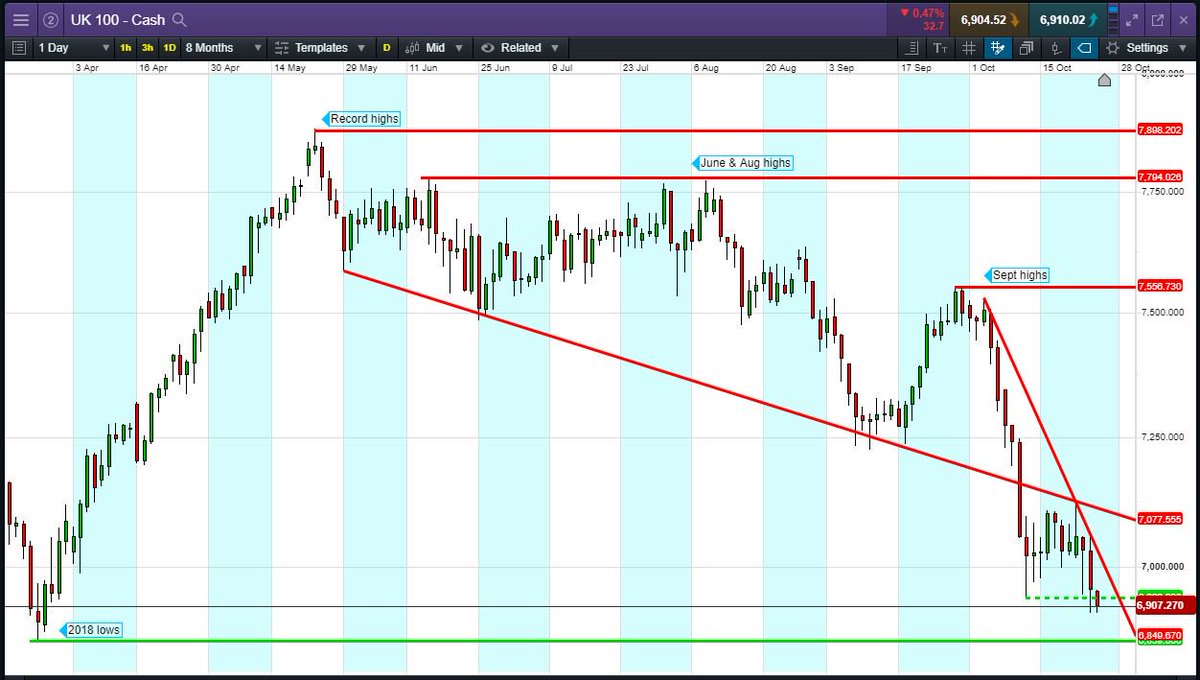 Other European markets are expected to slide too, as the spat between Rome and Brussels over next year's budget continues. The EU has asked for a new version within three weeks, but Italy is refusing to rewrite its plans.
Also coming up
The European Central Bank's governing council is meeting today to set monetary policy.
No change is expected, but Mario Draghi will be quizzed by journalists. Given the market volatility, is Draghi still happy to end the ECB's stimulus programme in December? And how worried is he about Italy?
It's a busy day for corporate results in London, with Lloyds Banking Group, WPP and Debenhams reporting results (and store closures, in Deb's case).
The agenda
9am BST: IFO survey of German business confidence
12.45pm BST: European Central Bank interest rate decision
1.30pm BST: US durable goods orders
2018-10-25 07:32:37

Read more from source here…