Policy and politics are issues that have great impact on the risk/return outlook across markets and geographies, but I think it's fair to say that for a market like China, policy and politics matter probably more than any other factor (given the mix of socialism, autocracy and capitalism which characterize modern China). And as China A-shares are looking increasingly cheap, it's worth examining the key policy and political trends in China.
This week's chart comes from a report on China A-shares, where we looked at the changing valuation picture and potential upside catalysts.
The chart shows the Economic Policy Uncertainty index for China against the Shanghai Composite – the major A-share benchmark on the Mainland.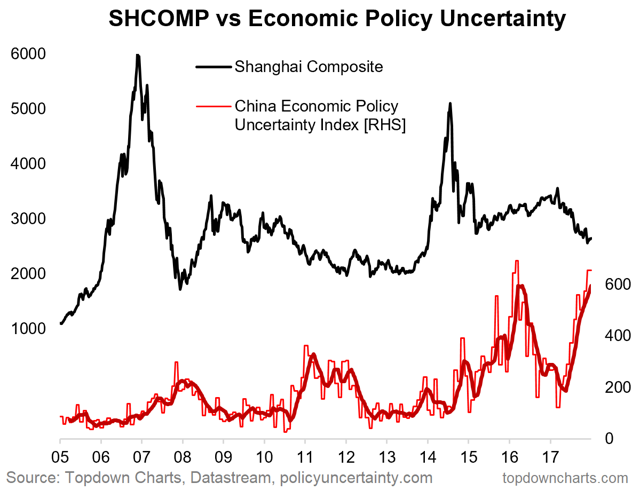 Specifically, the Economic Policy Uncertainty index is based on a set of algorithms which read and detect the appearance of certain words and phrases in the news to build a gauge of the level of economic policy uncertainty. As you can see with the chart, there is an interesting link between this index and the movement in the Shanghai Composite.
We've found that both in China and other global equity markets, there tends to be an inverse correlation to the Economic Policy Uncertainty index. This makes sense for a few reasons, firstly it's often changes in economic policy (e.g. monetary policy – think rate hikes) that can precipitate market downturns where you tend to see policy uncertainty spike.
The indexes are also effectively a measure of fear and attention on economic issues, and these are both typically higher when things are going bad in markets and the real economy.
At present, China is dealing with a number of issues on the economic policy front. Their economy is slowing, property prices are rising fast and causing affordability issues, the trade war and global political power struggle between the US and China continues to smolder, and the authorities are caught in a strategic tension between reforms, opening up, and deleveraging vs. stimulating the economy and maintaining social stability.
Thus, it's only natural that the Economic Policy Uncertainty index for China remains near historical highs. But the astute readers will note that the above addressed factors which contain two-way risk… which is to say, if their economy slows further, they will likely undertake more forceful stimulus and perhaps be more willing to make a deal on trade.
So while policy and politics have been weighing hard on Chinese risk assets, it's important to note the inherently two-way nature of these risks. Which means policy and politics in China could well actually be the catalyst to trigger the end of the Chinese bear market.
Disclosure: I/we have no positions in any stocks mentioned, and no plans to initiate any positions within the next 72 hours.
I wrote this article myself, and it expresses my own opinions. I am not receiving compensation for it (other than from Seeking Alpha). I have no business relationship with any company whose stock is mentioned in this article.
2018-11-21 05:49:00

Read more from source here…